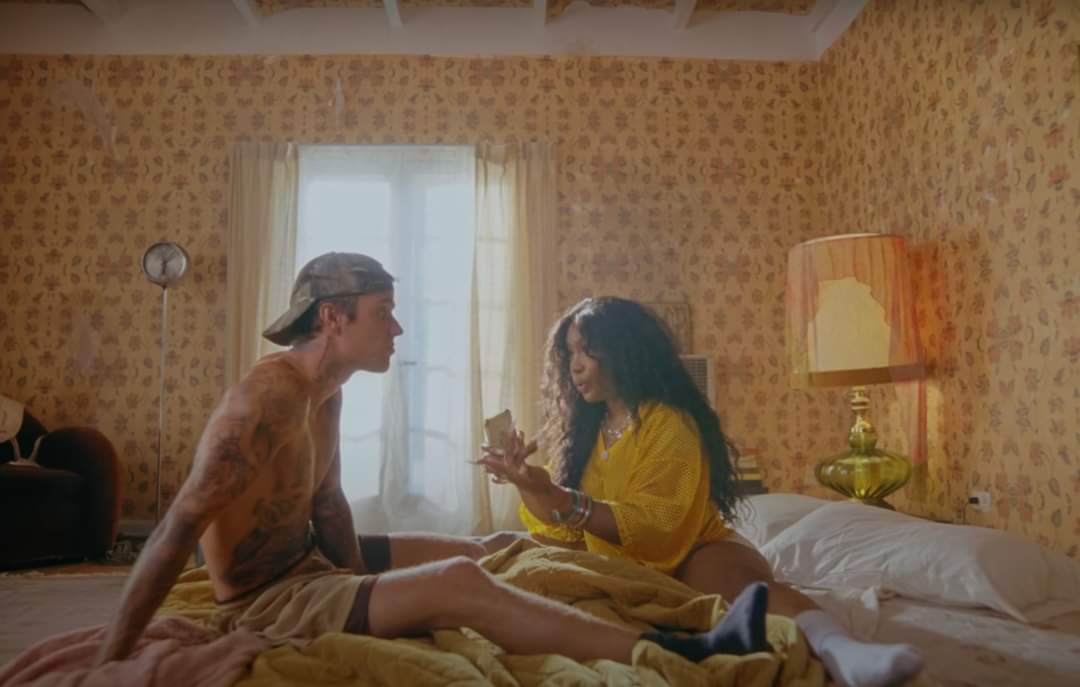 SZA Smokes in Bed With Shirtless Justin Bieber, Gives Robot a Lap Dance in "Snooze" Video
She also lets Benny Blanco eat fries off her butt.
SZA has delivered a video for the SOS highlight "Snooze," and it features her in bed with a shirtless Justin Bieber.
Directed by Bradley J. Calder, SZA stars in the visual opposite a number of romantic interests. Bieber joins her in bed to smoke, while superproducer Benny Blanco gets to eat fries off of her butt (dipped in ketchup off her back).
The 33-year-old singer also gets hot and heavy with Power Book II star Woody McClain, and Emmy-nominated Beef star Young Mazino. The "Snooze" video builds to a climax where she saves the most intimate act for a robot, who gets a lap dance as she's backed by two dancers.
Variety reports that SZA is expected to release an expanded version of the 23-track SOS album later this year with at least 10 additional tracks, including a remix of "Snooze" featuring Bieber. SOS debuted at the No. 1 spot on the Billboard 200 last year and has since spent a total of 10 non-consecutive weeks at the top of the chart.
SZA is set to continue the SOS Tour next month with a string of dates across North America. She completed the European leg of the tour back in June.
Earlier this month, SZA showed how she's enjoying her time off by sharing the disguise she wore to see Drake and 21 Savage perform in Los Angeles. "Lost in the bit or is the bit lost in me," she captioned a selfie that showed her sporting a fake mustache and glasses. She actually briefly dated Drake years ago, and they're still on good terms despite it not working out.
The list of 2023 VMA nominations was released earlier this month, and SZA racked up an impressive six noms thanks to her videos for "Kill Bill," which hit No. 1 on the Billboard Hot 100, as well as "Shirt."
Catch the Bieber-featuring video for "Snooze" above.