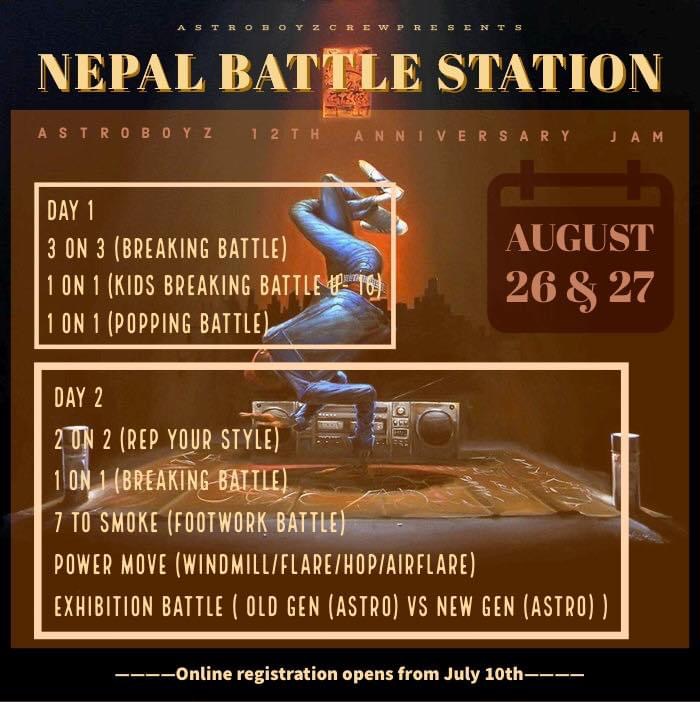 Nepal battle station X Astroboys crew 12th anniversary jam.
Astro boys crew , Hiphop crew of Nepal , is organising Nepal battle station in august 26 and 27 at sugar ktm , kathmandu.
Nepal battle station is happening to promote Nepal breaking scene to international recognition. Many b boys and b girls from foreign are also coming to participate in this jam. Astro boys crew said they want to inspire the aspiring b boys and b girls in Nepal and encourage the existing breakers to level up their game through this event .
Astro boys is not only B boying crew, it is full hiphop package. Rappers like professor Trix, graffiti artist like sunny ( Happysu), and Bibhusan( B boy Bull), Dj like Dj flowin' and Dj Nace and they all ready have lots of B boys and b girls .
Astro also said B boying scene can be improvised through proper education to the masses about the b boying culture , inspire the upcoming generation to take up this lifestyle and to show that there is a way to make life out of their passion, and by educating the people to reduce the stigma associated with hiphop culture in Nepal.
Here are the judges list of different categories: