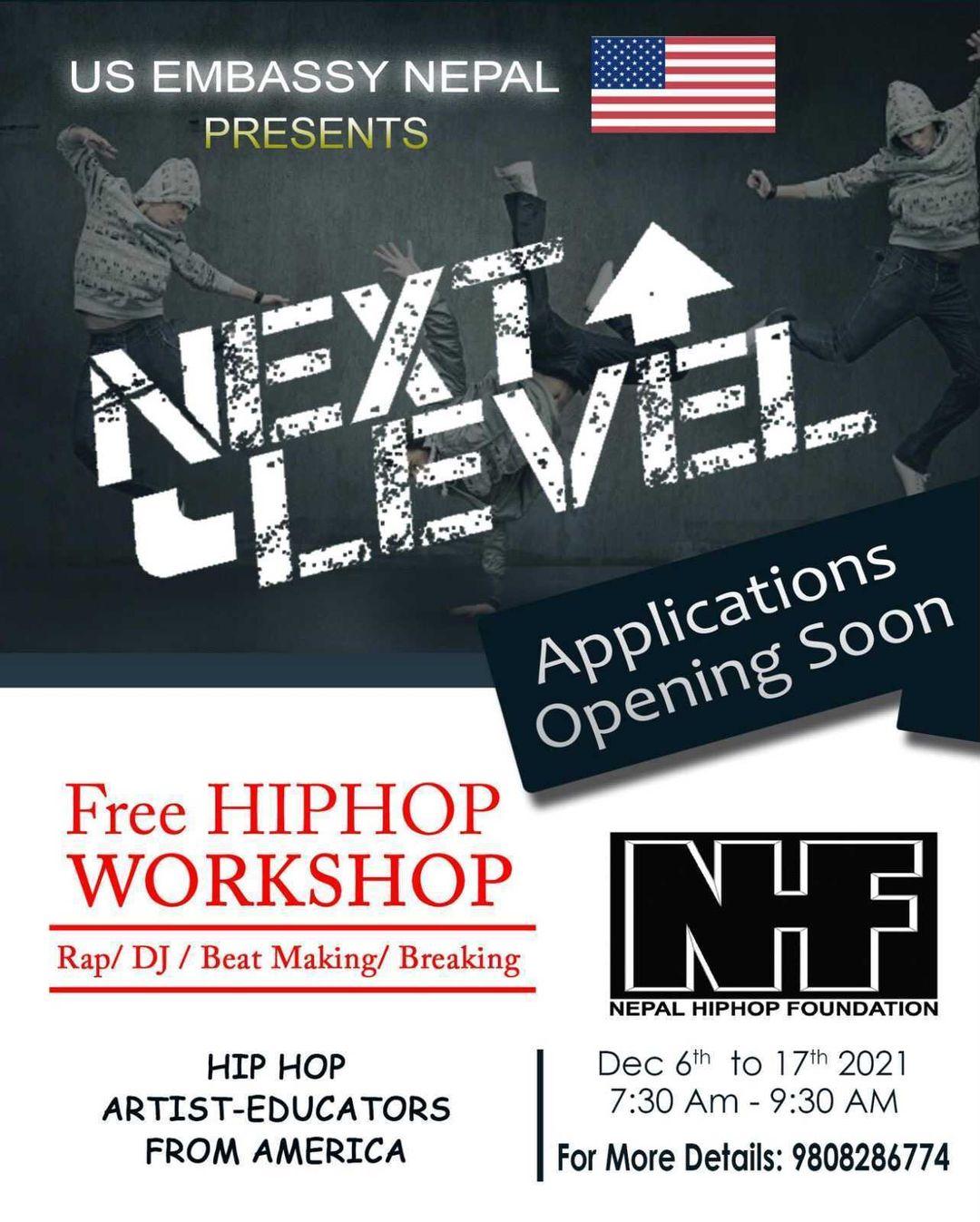 Free Hiphop workshop presented by US embassy in coordination with NHF and Next level USA.
Saroz Shrestha
Many Nepalese youths are into Hiphop, and they love doing Rap, beatbox, graffiti, djing , bboying. Rappers like uniq poet, vten, laure ,trix are influencing the nepalese youths through hiphop.
Us embassy Nepal is organising Free Hiphop workshop in coordination with NHF and Next Level USA.
Nepal Hip Hop Foundation (NHF) is registered as a Non-profit company (Company not sharing profit)in Kathmandu, Nepal. NHF used Hip Hop as a tool to uplift young Children, Youths in Kathmandu to keep them away from street violence and focus their energies on more positive pursuits.NHF believe that everyone can learn and everyone can teach and has the capacity to be a positive role models to others and leaders in our own communities bringing positive changes through Hip Hop. NHF initiated the concept of using Hip Hop and its elements namely Breaking, Emceeing, Djing and graffiti as a tool for raising awareness on social issues, Empowering Girls /Youth and involvement of youth in social issues. Its main motto being "Learn Earn through Fun"Since its establishment NHF has been a huge platform in building community leaders and role models inspiring hundreds of youths/Dancers and kids in Nepal.
Hiphop headers Adam⁷ ( beatmaker ) , dj lean rock ,Lisa ( dancer) , ONE BE LO ( MC ) , Pinqy ring( site manager) , Juan Gomez ( videographer) will be giving workshop of beatmaking, dj, rapping and other dance forms .Accoring to Dipesh thapa , director of NHF, free lodging, fooding will be provided to the participants from outside valley and expecting 50 participants from all over the Nepal. This workshop starts from 6th december to mentors and 13th to 17th december for the participants . He also added that this kind of Hiphop workshop helps to make the hiphop scene of Nepal bigger and more talent can be recognised .