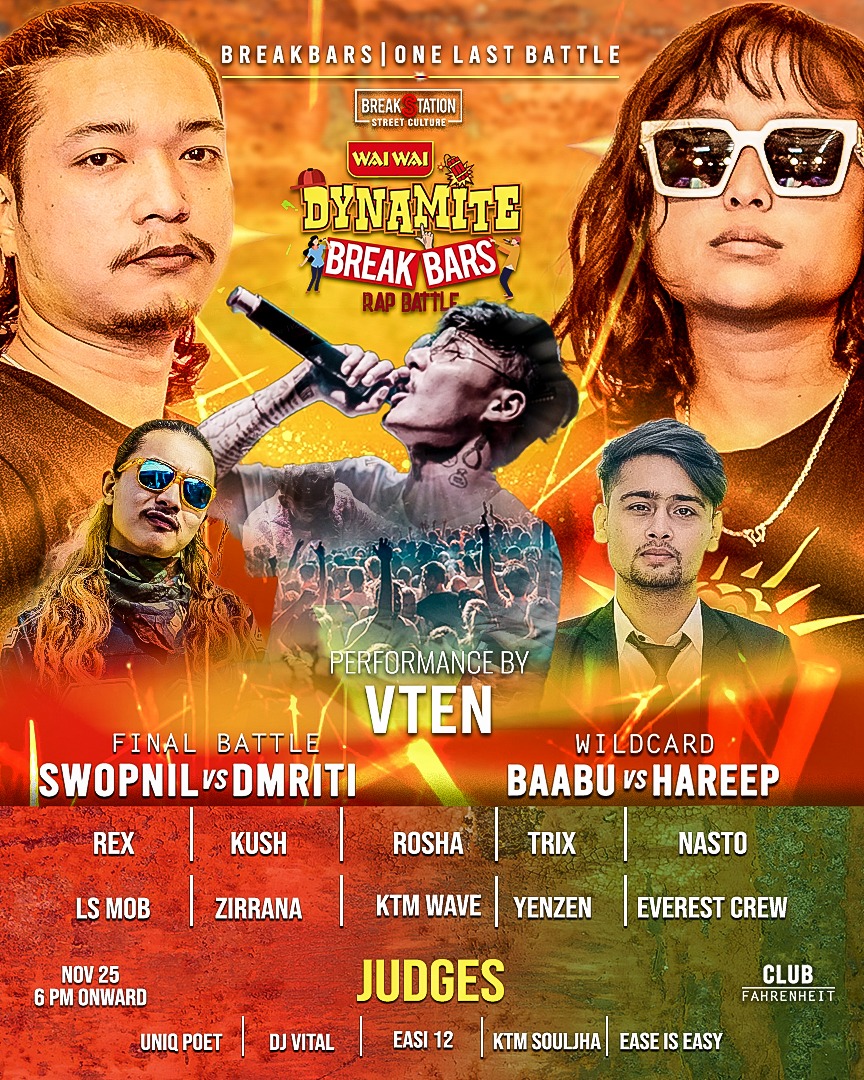 VTEN PERFORMING IN FINALE OF BREAKBARS RAP BATTLE.
Breakstation origins from the everest crew. Everest crew,one of the oldest B Boying crew of Nepal which was formed in 2009 A.d and yearly organised the everest jam( b boying battle). From B Boying Battle to rap battle, Breakstation has done many contribution in the hiphop scene of Nepal. Breakstation is dedicated to Hiphop community bringing quality local visuals to a growing global audience. They cover dance events, battle footage, event trailors, hiphop podcast, cypher, beatboxing and more. Breakstation is the true essence of Hiphop culture in Nepal.
Dmriti rapper from purba,who battled Phoenix Nemesis and Yenzen in quarter final of battle.She got remarkable victory over WlfKush in semifinal of Breakbars rap battle and entered final. Although she was chocked, was facing some breathing problem but her creativeness, punches, flow made audience love her. In other hand Swopnil rapper from Kathmandu, who battled Bulk'E, and Ls Mob in quarter final of battle. He got victory over Rex in semi final of battle and entered finale of battle. Now they will face each other in the grand finale of break bars battle on 25th of November.
Vten along with many other artists like Nasto, Kush, Rex, Rosha, Ls Mob, Zirrana, Ktm Wave and Trix will be performing live at club Fahrenheit. Uniq Poet and Ktm Souljha are two added judge along with Ease, Easi12 and DjVital who gonna declare the winner.